Great Discounts on Fee! Avail Offer Now
Get Details>
CAT 2020 GD/WAT/PI with IIM Alumni

Great Discounts on Fee! Avail Offer Now
Get Details>
The Prayas Classroom CAT 2021

Great Discounts on Fee! Avail Offer Now
Get Detail>
The Prayas Classroom CAT 2022

Great Discounts on Fee! Avail Offer Now
Get Details>
The Prayas Classroom CET 2022

Great Discounts on Fee! Avail Offer Now
Get Details>
The Prayas ePrep CAT 2021

Great Discounts on Fee! Avail Offer Now
Get Details>
The Prayas ePrep CAT 2022

Great Discounts on Fee! Avail Offer Now
Get Details>
The Prayas ePrep CET 2022

Great Discounts on Fee! Avail Offer Now
Get Details>
Mock CAT & Other MBA Entrances

Hi there! CAT 2020 results are out and b-schools have already started announcing their shortlists.
Are you seeking guidance on how to prepare for GD/WAT/PI in such short span of time? The most essential elements of this second phase of your journey are:
Clarity in communication – Be it written or verbal communication, one must ensure that his/her "intended" idea gets conveyed and understood.
Know yourself – In most cases, the interview panel will be interested in getting to know the 'real' you. So be prepared for all sorts of questions about yourself.
Know what's happening around you – There is a high probability that the GD/WAT/PI will revolve around any recent development. Keep yourself updated!
Anxious? Don't worry, The Prayas India is here to oversee your preparation for acceptance into your dream b-school. We provide you a one-stop shop to improve on all necessary parameters for acing GD/WAT/PI, including the ones mentioned above.
Highlights of our GD/WAT/PI preparation module are:
Interact with our mentors who are alumni from IIMs and other Tier-I MBA institutes
Personalized attention to every candidate and one-on-one sessions
Mock interviews with our MBA mentors & feedback
5 Power sessions covering areas frequently discussed in interviews
Daily update on General Awareness topics from all sectors
Study material on GD, WAT & PI
Feedback on prepared answers and essays
You will have classes 6 days/week, our weekly planner looks like this:
| | | | | | |
| --- | --- | --- | --- | --- | --- |
| Monday | Tuesday | Wednesday | Thursday | Friday | Saturday |
| Common HR Questions | Common HR Questions | Industry Power Session | Mock GD/WAT | General Awareness | Industry Power Session |
Get GD/WAT/PI guidance from The Prayas Mentors
And of course, who better to guide than those who have been through the process and cleared it?
Here are our mentors cum panellists: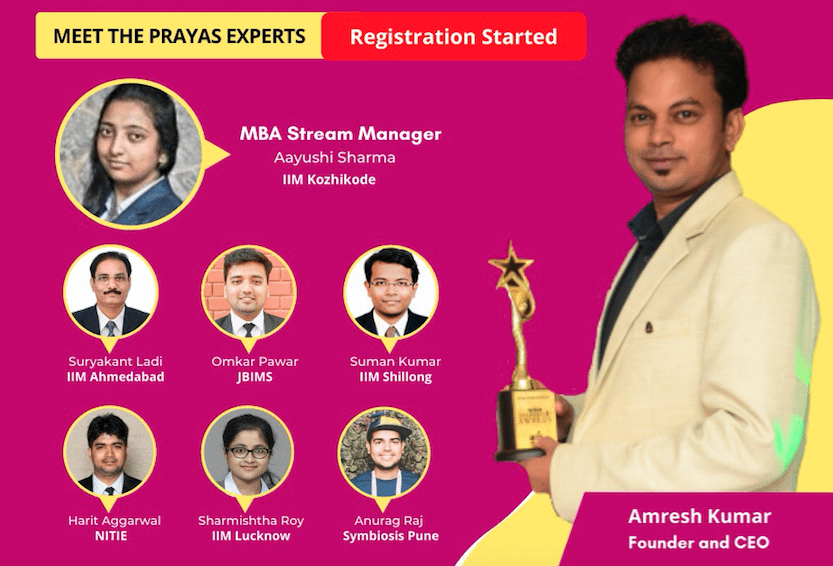 | | |
| --- | --- |
| Aayushi Sharma | IIM Kozhikode |
| Suryakant Ladi | IIM Ahmedabad |
| Lavanya K Bhadra | S.P. Jain |
| Suman Kumar | IIM Shillong |
| Harit Aggarwal | NITIE |
| Sharmishtha Roy | IIM Lucknow |
| Anurag Raj | Symbiosis Pune |
| Omkar Pawar | JBIMS |
REGISTER NOW with us and get a FREE MOCK INTERVIEW with our esteemed panellists along with feedback*.
*This offer is valid only for the first 20 students to enroll: