The Prayas Scholarship Test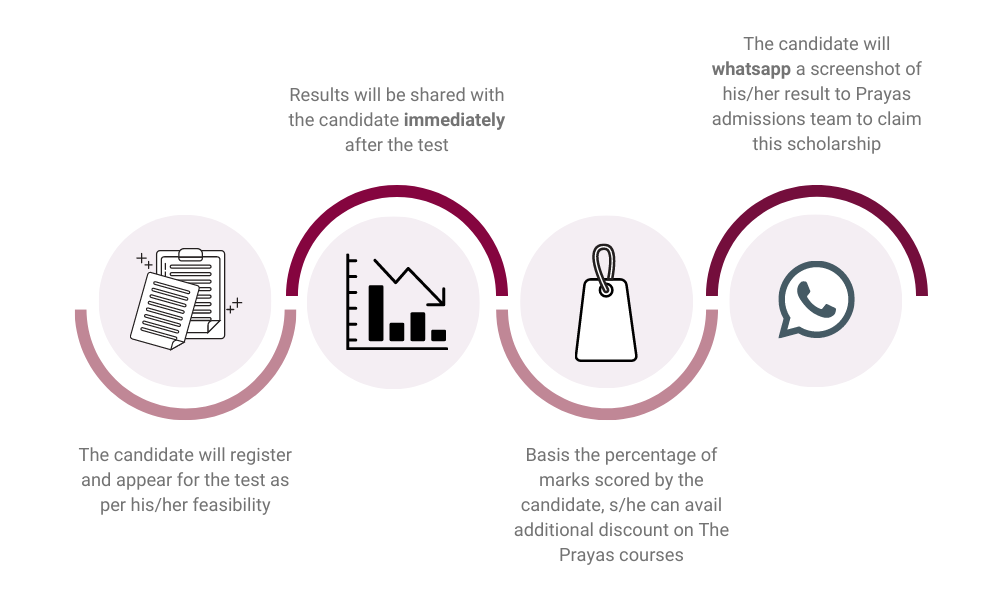 Note:
Each candidate can take the exam only once.
The scholarship amount cannot be redeemed in any form other than discounts on The Prayas courses.
Candidates already enrolled with The Prayas India are not eligible to claim any discounts through these tests.

Additional Discount Slabs
Percentage Marks Scored in the Test
Additional Discount Offered
Online Courses
Classroom Courses
30% – 49.99%
20%
10%
50% – 74.99%
25%
12.5%
75% – 89.99%
30%
15%
90% – 94.99%
40%
20%
95% – 98.99%
50%
25%
99% – 100%
70%
35%
Who should take The Prayas Scholarship Test and Why?
Between those who clear various competitive exams and those who don't, the difference is not that of ability or efforts. The only minute difference is that of putting effort in the "right direction". We at The Prayas India steer our students in this right direction by providing necessary guidance and mentoring based on detailed R&D. The Prayas Scholarship Test enables every student to identify their strong and not-so-strong areas. This helps the students in designing their "individual" preparation strategy.
Do you have any query? 

Click here