The G20, short for the "Group of 20," is a forum comprising the world's 20 largest economies. Established in 1999, it was a response to the Asian financial crisis. This group convenes annually to tackle pressing global economic and financial matters. India holds a significant place in the G20, having been a member since 2006.
In this article, we will explore the vital aspects of the G20 Summit 2023, an essential topic for UPSC aspirants. We'll delve into what is G20, its member countries, India's role as a G20 president, and its global significance. So, let's get started!
Why in the news?
The 18th G20 India Summit took place in New Delhi, on September 9th and 10th, 2023. This event marked the first time India had the privilege of hosting the G20 Leaders' Summit.
A Unifying Theme: "Vasudhaiva Kutumbakam":
The summit revolved around the theme "Vasudhaiva Kutumbakam," which translates to "The world is one family."
Key Achievements – G20 Leaders' New Delhi Declaration:
During the summit, the G20 Leaders' New Delhi Declaration was unanimously agreed upon. This declaration tackled a wide array of global issues, including addressing tensions between Russia and Ukraine, promoting sustainable development, ensuring food security, and the launch of the Global Biofuel Alliance.
What is G20 Summit?
G20 Origins: It is emerged in 1999 as a response to the Asian financial crisis.

G20 Formation: Established in 1999.

Membership: Comprises 20 major economies.

Global Influence: This Represents 80% of world economic output, 75% of exports, and 60% of the global population.

Rotating Leadership: Presidency shifts annually among member nations.

G20 Troika: Comprises current, previous, and upcoming presidencies for cohesive planning.

Origin: Emerged from the Asian financial crisis in 1997-98.

Leadership Level: Elevated to Heads of State/Government after the 2008 global financial crisis.

Designation: Known as the "premier forum for international economic cooperation."

Global Economic Collab: Acts as a pivotal platform for worldwide economic cooperation.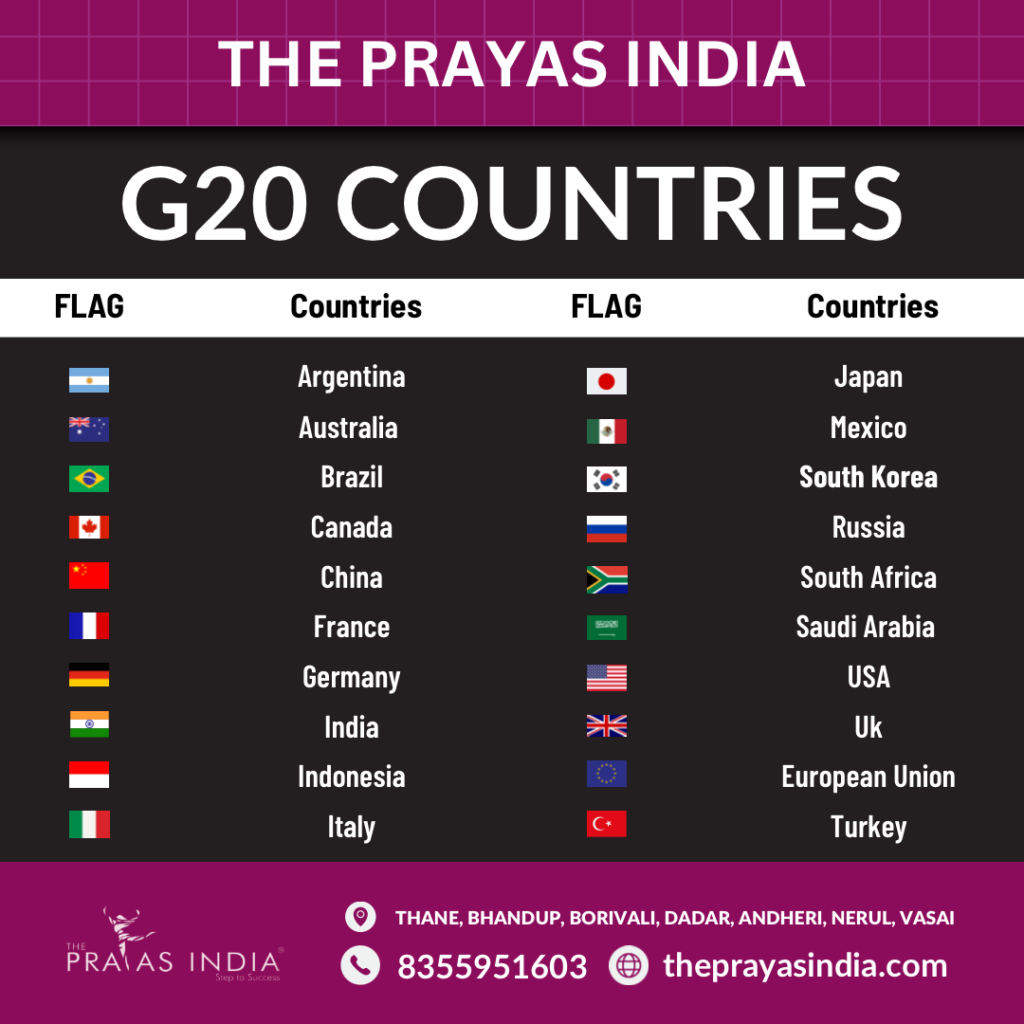 The G20 Countries List
The G20 Member Countries: It is officially known as the Group of Twenty, is a forum for international economic cooperation comprising 19 individual countries and the European Union (EU). These nations come together to discuss and coordinate on various global economic issues. The G20 member countries are as follows:
Argentina

Australia

Brazil

Canada

China

France

Germany

India

Indonesia

Italy

Japan

Mexico

Republic of Korea (South Korea)

Russia

South Africa

Saudi Arabia

United States of America

United Kingdom

European Union

Turkey
Collectively, these countries represent approximately 80% of the world's Gross Domestic Product (GDP) and account for two-thirds of the global population.
India as a G20 Presidency
India's Historic G20 Presidency in 2023:
India is making history by hosting the Group of 20 Leaders' Summit in 2023, welcoming an unprecedented 43 Heads of Delegation – the highest number ever for a G20 India summit. Leading the way as the G20 Sherpa of India is Amitabh Kant. India's mission during this presidency is to foster a shared global future grounded in a rules-based order, promoting peace, and ensuring equitable growth for all. This vision is encapsulated in its Amrit Kaal initiative.
Theme and Troika:
Under the theme "Vasudhaiva Kutumbakam" or "One Earth – One Family – One Future," India seeks to emphasize the interconnectedness of humanity and our planet. Throughout its presidency, the Troika will comprise Indonesia, India, and Brazil.
Invited Nations:
In addition to G20 member countries and various multilateral institutions, India has extended invitations to nine countries: Bangladesh, Netherlands, Oman, Singapore, Nigeria, Spain, the United Arab Emirates, Egypt, and Mauritius.
Enhancing African Representation:
To promote inclusivity, India has proposed the inclusion of the African Union as a full-time member of the Group of 20.
Challenges Faced:
While hosting Group of 20 meetings, India has faced the challenge of drafting a final joint statement acceptable to all members, particularly due to the ongoing Russia-Ukraine tensions.
G20 Logo and Amrit Kaal:
The G20 logo chosen by India blends the Earth with the lotus, India's national flower. It embodies the theme of 'Vasudhaiva Kutumbakam' or 'One Earth-One Family-One Future.' The logo's vibrant colors – saffron, white, green, and blue – draw inspiration from India's national flag. It underscores India's pro-planet stance, promoting harmony with nature.
The theme also highlights 'LiFE' (Lifestyle for Environment), emphasizing environmentally sustainable and responsible choices at both individual and national levels. India envisions globally transformative actions that lead to a cleaner, greener, and bluer future.
Furthermore, India's G20 Presidency marks the commencement of "Amrit Kaal," a 25-year period beginning from India's 75th independence anniversary in 2022, leading to its centenary of independence. This period aims to shape a futuristic, inclusive, prosperous society centered around a human-centric approach.

Significance of India's G20 Presidency:
Global Economic Influence: It is a leading international platform for economic cooperation, encompassing approximately 85% of the global GDP, over 75% of global trade, and nearly two-thirds of the world's population.

Extensive Meetings: India's G20 Presidency involves hosting around 200 meetings spanning 32 diverse sectors at multiple locations across the country.
Key Summit: The G20 Leaders' Summit, gathering Heads of State/Government, is slated for September 9 and 10, 2023, in New Delhi.
Expertise Sharing: India aims to leverage its G20 Presidency to share expertise in vital areas such as women empowerment, democracy promotion, and digital technologies.
Promoting Democracy: India, as a nation deeply committed to democratic values, can demonstrate that fostering a democratic culture can help resolve conflicts, notably in the context of the ongoing Russia-Ukraine conflict.
Global Common Good: India's foreign policy centers on the 'global common good.' Through its Group of 20 leadership, India aims to find sustainable solutions to pressing global challenges, including climate change, new technologies, food security, and energy security.
G20 Troika Formation: During India's Presidency, Indonesia and Brazil will join India to form the Group of 20 Troika. This marks the first instance where the Troika comprises three developing countries and emerging economies.
Empowering Emerging Economies: The Troika's formation is expected to shift the balance of power within the Group of 20, providing emerging economies with a more significant role in decision-making.
Addressing Anomalies: India sees its Group of 20 Presidency as an opportunity to address long-standing issues that have disproportionately affected developing countries, particularly in domains like agriculture and food subsidies.
CONCLUSION: G20 Summit 2023
To conclude, this article has provided valuable insights into the Group of 20 covering what it is, the list of member countries, India's role as a G20 presidency, and its significance. It's important for UPSC aspirants to grasp this information as it holds a high probability of featuring in your exam.
Furthermore, it's worth noting that India has formally passed on the Group of 20 presidency to Brazil. The upcoming Group of 20 summit is slated for 2024 in Rio de Janeiro, Brazil, under the leadership of President Luiz Inacio Lula da Silva. You can read in detail here: G20 India
For any additional information or inquiries, please don't hesitate to visit our website or reach out to us. Thank you!
🌐 For Daily Current Affairs: Click here
📖 For Daily Updates and Study Material: Click here
🖋️ For Mains Answer Writing Practice: Click here