Features of this programme:
What is this programme about?
It is a Prelims Test Series programme for UPSC-CSE 2023
Objective
To help student clear 2023 Prelims exam
It has a comprehensive coverage of entire syllabus of UPSC CSP exam through UPSC
standard MCQs.
Strictly adhering to UPSC pattern, the nature of questions ranges from factual to
conceptual, proportionally dividing in each of the Test Papers.
What will be the nature of these questions?
It will have both Static + Contemporary type of MCQs to give student an edge in their
basic as well as dynamic preparations
It will cover Previous 20 Year Questions paper of Prelims also to strengthen the
understanding of each topic and explore various dimensions of the question
It will also cover recent current affair related questions on all important topics of
past 1 ½ to 2 years
Schedule
A total of 20 test will be conducted
o 15 Sectional Tests
o 5 Full Length Tests (4 GS + 1 CSAT)
Live Lecture on Test Paper discussion
Expert faculty would conduct a lecture and discuss important question of the paper
These lectures would be recorded for future reference also.
Answer Key and Explanations of Question
Every question would be explained in detail in the answer key
An aspirant will get all the explanations in the portal itself with comprehensive
analysis
OMR Sheet
We will also provide OMR Sheet which will be strictly as per UPSC pattern
This OMR sheet will give a hands-on experience on actual Prelims exam to the
studentSources of questions
NCERT from 6th to 12th
Important reference books on each prelims subject
Current affair from important sources like The HINDU, Indian Express, Yojana,
Kurukshetra, PIB, etc.
Probable Prelims Questions for 2023
Our expert team would do an in-depth analysis of last 1 ½ to 2 years current affair
and form the most probable questions for Prelims 2023
Critical Analysis of this programme:
Questions are categorized on Easy, Moderate and Difficult level according to the syllabus.
Comprehensive coverage of syllabus through the Sub-Sectional, Sectional and full-length
Tests.
Resources that would be covered;
o Polity – NCERT from 6th to 12th, Laxmikant 6th edition, DD Basu, Newspaper
o History – NCERT from 6th to 12th, Bipin Chandra, Spectrum, Newspaper
o Geography – NCERT from 6th to 12th, GC Leong, Majid Husain, Newspaper
o Economics – NCERT from 9th to 12th , Ramesh Singh, Newspaper
o Ecology – NCERT from 9th to 12th, Environment by Shankar, Newspaper
o Science – NCERT from 6th to 10th, Newspaper
Previous years question stats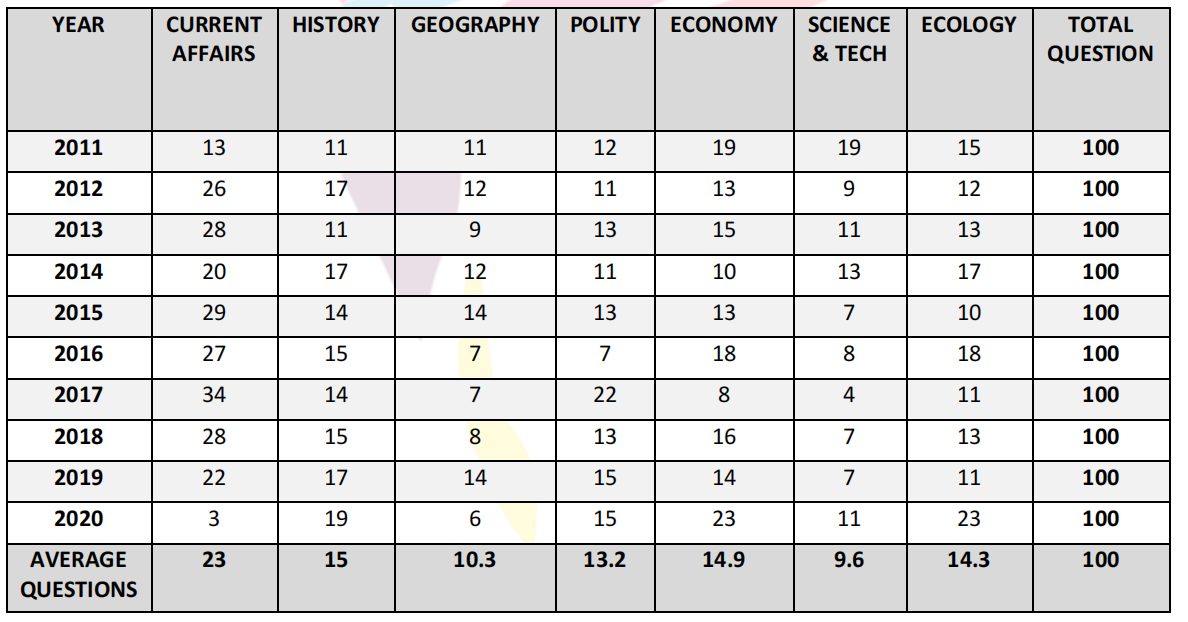 20 years Previous years Questions that would cover 1200 questions
Current affair questions of 2 years
Relevance of our tests series in actual prelims exam:
We make sure that we prepare our question to the tune of UPSC standard and language
In UPSC 2021-22 prelims tests around 61 questions were directly or indirectly from our test series, classroom lecture and study resources
Download Complete Test Schedule
Strategy Video for Beginners:
Prayas Students' Feedback Videos: