The Indian Express Newspaper for UPSC: The IAS Exam has a large syllabus. It would be best if you covered several ideas besides general knowledge and, most importantly, current affairs. Current affairs & general awareness are the most scoring portions of the prelims and mains examinations. Aspirants can quickly obtain the most recent UPSC current affairs in PDF format from internet sources. However, the best and most advised technique is to read the newspapers on a daily basis. The Indian Express newspaper will be discussed in this article. How to read the Indian Express, Benefits of reading Indian express Editorial, How to get the Indian express E-paper PDF, and other important things for your UPSC exam.
THE INDIAN EXPRESS NEWSPAPER: ABOUT
The Indian Express was started in 1932 as an English-language Indian daily newspaper. The Indian Express Group publishes it in Mumbai. The group was split up between the family members in 1999, eight years after the group's founder Ramnath Goenka died in 1991. The New Indian Express was given to the southern editions, while the northern editions, located in Mumbai, kept the original Indian Express name but added "The" to the title.
| | |
| --- | --- |
| Type | Daily Newspaper |
| Format | Broadsheet |
| Language | English |
| Owner | Indian express group |
| Publisher | Indian express group |
| Founded | 1932 |
| Editor in Chief |  Raj Kamal Jha |
| Head Quarters | B1/B, Express Building, Sector 10, Noida, Uttar Pradesh (UP), India. |
| Website | indianexpress.com |

THE IMPORTANCE OF CURRENT AFFAIRS IN THE UPSC
The general awareness element of the major government sector exams includes current affairs. General awareness is essential for reading and learning when preparing for competitive exams. Exams such as UPSC, Bank, SSC, RRB, or any Government Exam require aspirants to be informed of current events in India and throughout the world.
Prelims tests from the last few years suggest that roughly 20-30 questions from current affairs are asked every year, making them incredibly essential and a deciding element in ensuring success in the prelims exam.
Apart from the prelims exam, the main exam necessitates a multifaceted approach to dealing with many challenges. Therefore current events are crucial in this regard. Moreover, recent events also aid in the development of analytical and logical thinking on a variety of topics, including current social issues, economic issues, election reforms, and national interests in international relations, among others.
Current Affairs knowledge is important for success in the IAS test, government exams, and competitive exams. History, geography, economy, environment and ecology, government, science and technology, and other topics are covered in current events.
Aspirants should be up to date on recent affairs or events that make national and international news. You may also check weekly or daily UPSC current affairs on our UPSC website, which is free to use.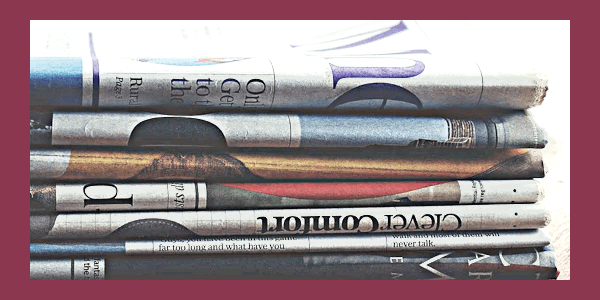 HOW TO READ THE INDIAN EXPRESS NEWSPAPER 
The INDIAN EXPRESS is one of the most essential sources for UPSC CSE's current events preparation. It aids in the development of a holistic approach in main response writing, as well as facts in the prelims. However, as with any other source, it is not required to read it from beginning to end.
Topics such as national/international history, new Geographical Indications (GI tags), current geographical phenomena, women and social issues, health, education, and social security, to name a few.

Governance, Constitution, Constitutional Amendments, High Court and Supreme Court Decisions, Government Policies and Schemes, Diplomatic Relations, International Relations, Multilateral Forums, and other related topics.

Employment, Poverty, Budget, National and International Security, Natural Disasters, Environment, and Climate Change are all topics that concern the global and Indian economies.

In the Explained section, there are a few articles that are highlighted.

Case studies that relate to UPSC-CSE syllabus themes.

Making a summary of the Editorial is crucial because it will help you improve your writing skills

Crime, politics, sports, the stock market, sensational news, and so on can usually be avoided.
On the pages of The Indian Express Newspaper, Now, we'll see the most important sections to read
1. Front Page
The front page usually features the most important news from the previous day. The story continues on the second page as well.

The first page also includes some state-specific news; read the corresponding articles.
2. City
This page provides news from each state and area.

A successful governance model or an innovative scheme for a specific state is occasionally given.

These pages should be studied for interview preparation. These topics could be the subject of interview questions.
3. Politics & Government
Politics and government are frequently discussed in articles on this page.

You can come across articles about government policies or plans that you should read.
4. World
This page will provide you with updates on major global events. All articles related to your exam should be read.

The reading list should be based on the curriculum for the General Studies II paper, particularly the sub-topics pertaining to international relations.

Other international events should only be read if the contents of the article affect India's relationship with that country etc.
5. Economy
The articles in this section will assist you in preparing for the Economy segment of the Prelims as well as different topics linked to economics in the Mains General Studies III paper.

When we look at previous year's question papers, we can observe that the questions in the Economics sub-topic of the Mains come mostly from newspaper articles.
6. Express Network
This section usually has news stories from throughout India. Read-only the articles that are relevant to the exam.
7. Page of Editorial
The most crucial topic in the news is usually depicted on the Editorial page. Professional journalists and editors, subject experts, economists, senior lawyers, and others contributed to the articles on these two pages.

These pages contain key information about a specific topic. It also discusses the advantages and disadvantages, as well as inventive remedies and futuristic proposals, for a certain situation.

The majority of the questions asked in the main examination are of an opinion nature. The in-depth analysis provided in the editorial part will be useful in answering such questions.

These pages will also help you prepare for the essay assignment and the interview. These pages are also crucial for the preliminary exam.

Don't forget to make notes on this.
BENEFITS OF READING THE INDIAN EXPRESS EDITORIAL
The Indian Express newspaper has raised its standards in recent years and has become a valuable resource for UPSC aspirants. Let us discuss the benefits of reading Indian Express.
The readers will be able to grasp the language chosen.

The Indian Express newspaper is a good choice for UPSC aspirants who are not fluent in English. It covers the news in a straightforward manner.

The Indian Express devotes a significant amount of coverage to economic issues.

Top-notch news stories from sectors such as government, economy, and politics are included.

The editorial portion, which is jam-packed with material and necessary for your UPSC preparation, is written by eminent people.
CONCLUSION— THE INDIAN EXPRESS
In Conclusion, The Indian Express Newspaper Editorial has been discussed in this article. We've also talked about the need to read newspapers for UPSC, how to read the Indian Express, and other details. There is also a pdf available of the Indian Express epaper pdf. The Indian Express pdf is available for download and reading at any time. Simply go to https://indianexpress.releasemyad.com/epaper/ to obtain the free Indian Express PDF. You'll be taken to an Indian Express page where you can download the article you want. Reading the newspaper, on the other hand, should be done on a daily basis. As a result, schedule time for it and make sure you don't forget to study.
FAQs— THE INDIAN EXPRESS

How can I get a PDF copy of the Indian Express Newspaper?
To get a free PDF of Indian Express, go to https://indianexpress.releasemyad.com/epaper/ and you'll be taken to a page where you can download the copy of your choices.
Is the Indian EXPRESS a suitable newspaper to study for the UPSC?
The Indian Express newspaper is a good choice for UPSC aspirants who are not fluent in English. This is because it covers the news in a basic manner. The Indian Express covers economic issues in great detail.
Is the Hindu newspaper sufficient for UPSC?
The best and most recommended newspapers for UPSC preparation are "The Hindu" and "The Indian Express."
Which magazine is the most suitable for UPSC?
There are numerous magazines that provide helpful information from a UPSC standpoint. When studying for UPSC CSE, most applicants read Yojana Magazine, Kurukshetra, and Pratiyogitha Darpan.
EDITOR'S NOTE | THE INDIAN EXPRESS

Current events play an important role in preparing for the UPSC Civil Services Exam. Therefore, it is recommended that a candidate reads a specific newspaper every day and takes notes, especially The Hindu or Indian Express. We talked about The Indian Express Newspaper Editorial in this article. Also, how to read and what to read, Indian express epaper pdf is accessible, as well as the benefits of Indian express newspaper. So take your time and read this information thoroughly.
Aspirants For competitive exam preparation, please visit our website. You will receive all exam-related information, as well as Free Counseling, Free current affairs, Mock tests, Webinars, and other materials. Please contact us if you require any further details. Go to the official UPSC website for exam-related news, updates, and alerts. In a day, nothing gets done. For something big to happen, it needs time and a continuous pace. Working hard and consistently is the key. Lastly, Best of luck!